There are so many fantastic promotions to start your new year! I am excited to share them with you today...
Celebrate National Papercrafting Month

Get the Year & Noted paper kit and embark on a yearlong scrapbooking adventure!
In celebration of National Papercrafting Month, Close To My Heart invites you to reflect on the things that make you who you are and on what you want to accomplish in the coming months. Then, with the help of the Year & Noted paper kit, record your experiences and goals! During the month of January, with a qualifying purchase of $50, you are eligible to purchase the exclusive Year & Noted paper kit (which has a retail value of over $24) for only $5—that's over 80% off retail! Or, for an additional $5, you can order the Year & Noted paper kit with an accompanying My Creations™ kraft mini book. The paper kit for both options includes a C-size stamp set, stickers, cardstocks, and B&T Duos™ papers, all specially designed to coordinate with the My Creations™ kraft mini book so you can have a yearlong scrapbooking experience. This means you will receive over $34 worth of product for only $10 if you purchase the kit with the accompanying mini book! But the fun doesn't end there—included on the sticker sheet, you will find a large golden seal. Once the year is done and all the pages are filled, seal up your book and create a mini time capsule that you can open years from now. Remember, this deal is only available for January, so make sure to get your own Year & Noted paper kit today for the perfect start to a crafty year!
Watch this great video for more information on this fabulous kit...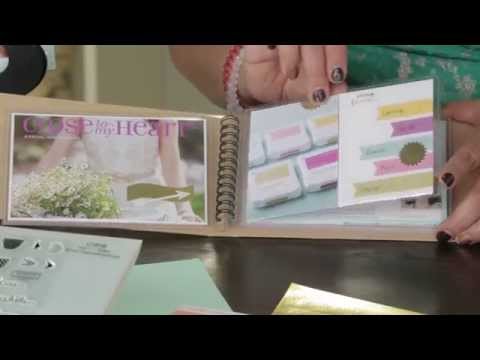 *Offer valid January 1, 2015 (9:00 am MST) - January 31, 2015 (11:59 pm MST). Shipping/handling is calculated based on the full retail price of the discounted items (without My Creations kraft mini book: $24.95; including My Creations kraft mini book: $34.51.)
___________________________________________
January Stamp of the Month - This Moment
Get this heart filled
stamp set for just $5!
With a minimum qualifying purchase, get your D-size Stamp of the Month set for just $5! Add the stamp set to your cart here at full retail price ($17.95) or, with your qualifying order, add it at checkout for the promotional $5 price.
Set of 12
Recommended My Acrylix® Blocks:
1" × 3½" (Y1002), 2" × 2" (Y1003), 3" × 3" (Y1006), 2" × 3½" (Y1009)
___________________________________________
Extra! Extra! Hostess Rewards!
January Hostess Promotion
During the month of January, all Gatherings that reach $350 or higher will be eligible to receive up to 50% more Hostess Rewards! This means an additional $30, giving you the opportunity to earn up to $230 or more in select free products. This offer is only available during January and is the ideal pairing for your National Papercrafting Month Gatherings, so join in the celebration and watch your earnings grow!
Contact me to schedule your own home gathering or online gathering and earn extra rewards this month!
~Michelle Battitori